We are throwing open the school gates of Naas Community School to welcome everyone from our local community and beyond to join us in a timed 5K Colour Run which starts and finishes on the new state of the art Naas Community College Campus.
The run will start at the school, then proceed down through Millennium Park, whilst being doused and covered in colour. We have organised a community event at the finish line with something to suit the whole family and local community, such as a BBQ, cake sale, music and refreshments for all.
Everyone is welcome but please leave your pets, bikes, scooters, skateboards at home. In line with keeping our carbon footprint down we encourage as many of you to walk to the event but we will have an allocated parking area nearby to facilitate people coming from far away.
We are hosting this event to raise some funds to build an outdoor amphitheatre on the site which will be available for not just our school community but for everyone in the locality to enjoy. 10% of all funds raised will go to our charity partner Insync who currently do fantastic work for the young people from our town.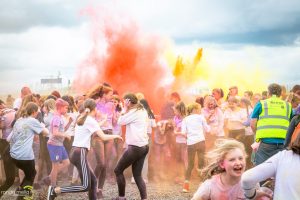 Date: 22/5/22
Time: 2pm
Venue: Naas Community College, Millennium Park, Osberstown, Naas, Co. Kildare, W91 P93F